Anne Perrin Endowment for Graduate Students in Literature established
Anonymous donor gives new scholarship funding to honor English professor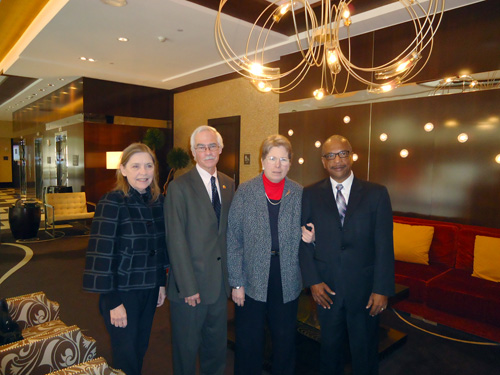 From left to right: Dr. Roberta Weldon, Professor of English;
Dr. Wyman Herendeen, Chair of the Department of English
and Professor of English; Dr. Anne Perrin, Adjunct Lecturer;
and Dr. John W. Roberts, Dean of the College of Liberal Arts
and Social Sciences
It is with great pride and gratitude that the College of Liberal Arts and Social Sciences announces the Anne Perrin Endowment for Graduate Students in Literature in the College of Liberal Arts and Social Sciences at the University of Houston.
Dr. Anne Perrin began teaching American history and American literature in 1971 at the secondary school level. Dr. Perrin decided to return to the academy, and she received her Master of Arts in English from Sam Houston State University. In 1998, she began her doctoral work at the University of Houston, graduating in 2004 with a concentration in American Literature. While working toward her degree, Dr. Perrin served as a Teaching Assistant and Teaching Fellow. After she graduated, she remained faithful to the Department of English, teaching as an adjunct lecturer primarily at the main campus, but also teaching at University of Houston Clear Lake. She could always be counted on to teach classes when the Department needed her.
This endowment will be used to provide scholarship funding in the Department of English in the College of Liberal Arts and Social Sciences. Dr. Anne Perrin is a proud University of Houston graduate, and she has been honored with the creation of this named endowment. Dr. Perrin developed a love of early American literature and expanded her interest to the works of women writers of the 18th and 19th centuries. Dr. Perrin explored the life writings of women traveling to the West with their husbands, and she discovered primary source material—diaries and letters—that contradicted much of the respected literary criticism that was written in the twentieth century. Dr. Perrin, with the encouragement and mentorship of Dr. Roberta Weldon, studied the artifacts of the brave women who wrote in the midst of traveling in wagons to uncharted parts of the emerging United States, settling among unfathomable conditions, experiencing childbirth in primitive situations, as well as living in a new civilization. These literary and historical works remain available for other researchers to discover and explore. She wanted to encourage other graduate students to develop the same love of the literature that her mentor, Dr. Roberta Weldon, sparked in her. This endowment will live on in perpetuity to honor Dr. Perrin. It will help others uncover more of the truths of the journeys that these settlers experienced and wrote about and will encourage them to share their discoveries with other Americanists through their scholarship and publication.