Front page news or quietly kept, suicide exists in African American culture
Psychologist Rheeda Walker dispels mental health myths; eliminates cultural barriers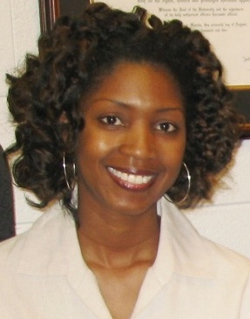 Jovan Belcher, a linebacker for the Kansas City Chiefs, appeared to have the life he wanted – a lucrative career playing the sport he loved and a long-term relationship with the mother of his newborn daughter.
So, when the news broke that the 25-year-old National Football League player killed his girlfriend, and then himself, leaving their daughter an orphan, it shocked and saddened the nation.
"I think that suicide deaths, including celebrity suicides, are always shocking," said Rheeda L. Walker, associate professor in the Department of Psychology "There's a tremendous desire to make sense of what happened and why."
"Suicide deaths are very complicated, even when the circumstances are seemingly well known. Commenting directly on the circumstances of an individual suicide would be less than wise. However, anyone who dies by suicide likely experienced tremendous emotional peril prior to their death."
Dr. Walker is a licensed clinical psychologist whose research focuses on two understudied areas – suicide and African-American adult mental health. Her goal is to dispel the long-standing myth that African Americans don't commit suicide and broaden the picture of depression specifically to show what depression looks like in African-American culture.
"For African Americans, the suicide death is more puzzling because there is a strong belief that due to tremendous cultural, historical and contemporary resilience there is no circumstance that should drive someone to take his or her own life," Dr. Walker said. "Yet, I meet African Americans who knew another African American who had, in fact, died by suicide and they still believe that statement that African Americans do not kill themselves."
Two bars in rapper/music producer Kanye West's verse on the collaboration Clique with artist and music mogul Jay Z and rapper Big Sean is in regular rotation on the radio, has more than 20 million hits on YouTube and points to the difficulty of Dr. Walker's task:
"…Went through, deep depression when my momma passed… Suicide, what kinda talk is that?"
"Some resilient person might pose such a rhetorical question and come away without a second thought about the reality of suicide," says Dr. Walker about the song lyrics.
"However, if the situation arises in which a suicidal person shares their vulnerability with someone in the interest of getting help and the response is 'What kinda talk is that?' the suicidal urges don't just go away for some," she said. "Even worse, they may be disinclined to seek out any further support."
According to the 2011 Center for Disease Control's Health Disparities and Inequalities Report, in 2007, a total of 34,598 suicides occurred in the United States. Of those, 5.5% were among non-Hispanic blacks.
The National Alliance on Mental Illness reported in 2009 that culture biases against mental health professionals and health care professionals in general prevent many African Americans from accessing care due to prior experiences with historical misdiagnoses, inadequate treatment and a lack of cultural understanding. The Alliance also found that only 2 percent of psychiatrists, 2 percent of psychologists and 4 percent of social workers in the United States are African American.
Dr. Walker's research interest began while she was an undergraduate student at the University of Georgia and she noticed that the textbook definitions and descriptions of suicide and depression did not sync with her perspective as an African American female.
"The available textbooks are not doing a good job of addressing behavior across ethnic groups," Dr. Walker said. "And it is not fair to call anything outside of mainstream definitions of behavior 'deviant,' which is often inferred. Labels like that affect the way we think about other people."
Stress can lead to suicide
An important part of suicide prevention in the African American community is having individuals recognize that they may have family members or friends who are woefully overwhelmed and need support, even if it's just someone to talk to without being judged. If they do not get that support, that individual may seriously consider suicide in the face of overwhelming stress.
Dr. Walker's research indicates that the further a person is from their cultural "roots" both physically and generationally, the risk of suicide increases.
For example, if an individual is a first generation U.S. citizen who has a close relationship with family and friends in their native country, their risk of suicide is lower than an individual who is distanced both physically and culturally from their place or origin.
"The path to taking one's own life is very complex, but for people who are ethnically and culturally marginalized, available studies show that those factors are further complicated by the longer the person is in the United States," said Dr. Walker. "They may be more prone to suicide in part to loss of cultural buffers and stressors associated with adopting a new culture."
Dr. Walker was born and raised in Savannah, Ga. and her mother still resides there. She earned both a master's degree and PhD in psychology at Florida State University. Her career includes being a faculty member at the University of South Carolina, Southern Illinois University, and, most recently, the University of Georgia.
This past spring, both Dr. Walker and her husband Dr. Ezemenari M. Obasi were appointed to tenured positions at the University of Houston. Dr. Obasi is an associate professor of educational psychology and Director of the Hwemudua Addictions and Health Disparities Laboratory in the College of Education.
Despite now being a plane-ride away from Savannah rather than driving distance, the move to Houston has advantages for Dr. Walker, not the least of which is doing research at the Harris County Psychiatric Center, which has a patient population that is 20 percent African American and 20 percent Latino.
She said: "The proximity of the Texas Medical Center, the diversity of this city, and the fact that we are in a major U.S. city made a compelling case for our family to move to Houston."
- By Monica Byars