Ellen Happe Phillips appointed as CLASS Senior Development Officer
Top-tier fundraising executive joins the College of Liberal Arts & Social Sciences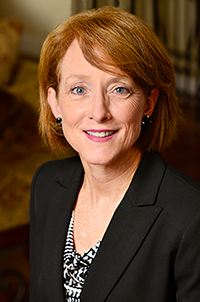 Dean John W. Roberts has appointed Ellen Happe Phillips to the position of Senior Development Officer for the College of Liberal Arts and Social Sciences.
Ms. Phillips will lead the College's development staff, manage its fundraising priorities and spearhead a comprehensive effort to increase the College's financial resources and advance student and faculty achievement.
"Ellen Phillips brings to this position her credentials as a leader working in the Houston philanthropic community," said Dean Roberts. "In her previous positions, she was incredibly successful, and I fully anticipate that she will duplicate that success here at the University of Houston."
Ms. Phillips, a highly-respected advancement professional, began her work in the new position on December 3.
"It is an honor to be part of the Cougar Pride and I look forward to working with the dean, faculty and staff of CLASS to achieve our fundraising goals," Ms. Phillips said.
Before joining the College, Ms. Phillips was the Director of Development at Texas Children's Hospital. During her five-year tenure there, she secured the second largest gift n the hospital's history - a $25 million donation in support of the $500 million Heal Sick Children Capital Campaign. The gift was designated for the Pavilion for Women, allowing the Texas Children's Hospital to advance women health services and ensure the delivery of healthy babies.
Prior to helping Texas Children's achieve its gift goals, Ms. Phillips was Director of Development for Baylor College of Medicine and St. Agnes Academy. She also led donor relations, major gifts and special projects efforts at the University of Texas-Houston Health Science Center
Her experience also includes coordinating fundraising for The United Way of the Texas Gulf Coast and volunteers for the Houston Symphony.
Ms.Phillips holds a bachelor's degree in music education from Sam Houston State University. She is an avid quilter who uses cloth to create traditional, contemporary, and functional art pieces. She is also a competitive triathlete and member of the Houston Racing Triathlon Club.