Moores Opera Center's new season mixes classics and contemporary works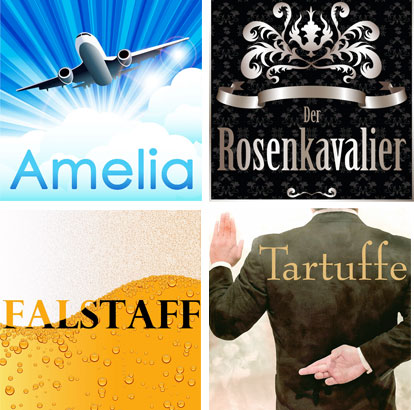 Highlights include second-ever production of Amelia and rarely-performed Der Rosenkavalier
Houston opera audiences can look forward to another Moores Opera Center season filled with laughs, tears, romance and, of course, beautiful voices.
For its 2011 – 2012 performance season, the acclaimed opera center will deliver a blend of comedies and dramas. Likewise, it will continue providing Houston audiences with regional premieres, contemporary favorites and rarely-performed classics.
Among the season's highlights is the second production of Daron Hagen's Amelia, which will be performed Jan. 27 – 30. The opera made its debut in 2010 at the Seattle Opera and was greeted by rave reviews. The Moores Opera Center is the only other company to produce this opera. Hagen will attend its performances.
"It always is gratifying to receive support from a noted composer such as Daron Hagen," said Buck Ross, director of the Moores Opera Center. "I am pleased that we can introduce many Houstonians to this wonderful opera and that the Moores Opera Center is fast becoming the place for contemporary composers to go when they want second productions of their operas."
In April, the Moores Opera Center hosted the second American production of Daniel Catan's Il Postino, which premiered at the Los Angeles Opera in September 2010.
Another highly-anticipated performance of the Moores' 2011-2012 season is Richard Strauss' Der Rosenkavalier, which will run March 30 – April 2. This popular comedy has long been a showcase for female singers, as well as lavish period costumes and sets. The Moores production will offer audiences a unique opportunity to witness a grand classic within an intimate space. It's also a rare performance of this work by a university opera center.
Der Rosenkavalier will feature conductor Franz Krager, director of Moores orchestras; graduate student and professional singer David Ward; and Moores School of Music professor Cynthia Clayton-Vasquez.
"It's a very unusual piece for a university to produce. I only know of one other university that has performed Der Rosenkavalier," Ross said. "It is a very challenging piece, but all of our singers and orchestra musicians are up to the task."
All operas are performed in the Moores Opera House in the Arts Quadrangle on campus at Entrance 16. Tickets are $20 and $10 for students and seniors. A season pass covering four season operas is available for $45. For additional details on tickets, call the Moores box office at 713-743-3313.
The Moores Opera Center 2010 – 2011 season:
Falstaff by Giuseppe Verdi (Sung in Italian with English surtitles)
Shakespeare's lovable rogue Falstaff confidently barrels through Elizabethan England leaving comic destruction in his wake. A quicksilver tribute to the joys of self-indulgence and self-delusion, Verdi's final masterpiece heartily embraces all that life has to offer.
    7:30 p.m., Oct. 21, 24
    8 p.m., Oct. 22
    2 p.m., Oct. 23
Amelia by Daron Hagen (sung in English with English surtitles)
Haunted by her father's death when he was a pilot in the Vietnam War, a woman comes to terms with the ghosts of her past, the dream of flight and the hope of being reborn.
    7:30 p.m., January 27, 30
    2 p.m., Jan. 29
Tartuffe by Kirk Mechem (sung in English with English surtitles)
Based on the play by Molière, this opera is a lively and hilarious look at hypocrisy and greed hiding behind a mask of piety. The title character is a "holy man," who is promised the hand of a friend's daughter. The problem is, he is robbing his friend blind and trying to seduce his wife.
    7:30 p.m., January 26, 28, 29
Der Rosenkavalier by Richard Strauss (sung in German with English surtitles)
According to Viennese custom, the Knight of the Rose delivers a silver rose to a woman as a sign of a formal wedding engagement. What happens when the bride-to-be falls for the person delivering the rose…instead of her fiancé? Nostalgic waltzes permeate this sublime score, conjuring up old Vienna in all its glory, while lavish costumes and scenery form a backdrop to a story that is one part autumnal romance and one part romp.
    7:30 p.m., March 30, April 3
    2 p.m., April 1
Related Links