Haynesville: A Nation's Hunt for an Energy Future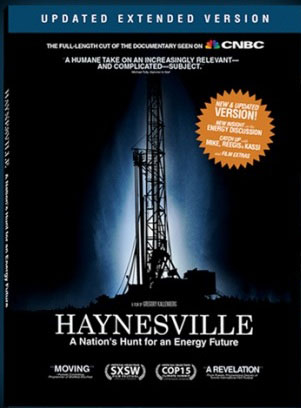 Hosted by the Energy Management and Policy Group
WEDNESDAY, MARCH 2
University of Houston
Stubblefield Auditorium, Cemo Hall
(behind Bauer School fo Business)
6:30pm - Feature screening of Haynesville
8:00pm - Q&A and Panel Discussion with:
Director Gregory Kallenberg and panelists J. Lanier Yeates, Jacqueline Weaver and Joseph Pratt
Contact Phone: (713) 743-3088
About Haynesville: A Nation's Hunt for an Energy Future
Called "Moving," "Fair and smart," and "A humane take on an increasingly relevant- and complicated- subject," Haynesville documents the momentous discovery of the most prolific natural gas field in North America called Haynesville Shale and explores what the find could mean to our nation's energy future. The film follows the lives of three residents in the middle of the gas discovery and explores their hopes, dreams, and the reality of what happens during an energy boom. As the Haynesville erupts, experts discuss the potential of shale gas, our current energy situation, and offer a path to a cleaner, greener future.
About the Discussion Panelists
J. Lanier Yeates: Gordon Arata McCollam Duplantis & Eagan, LLC
Yeates is a specialist in oil and gas law who has represented numerous oil and gas producers and the financial institutions that provide capital to the industry. He is currently teaching "Essentials of Oil and Gas Shale Development" at the Law Center of the University of Houston.
Jacqueline Weaver: A. A. White Professor of Law, University of Houston
Weaver is an internationally known expert on oil and gas law. She was the Director of the Russian Petroleum Legislation Project, which drafted a model petroleum code for the new Russian Federation. She is co-author of a casebook entitled "Energy, Economics, and the Environment."
Joseph Pratt: Coordinator, Energy Management and Policy Group, University of Houston
Pratt, the NEH-Cullen Professor of History and Business at UH, is an energy historian who is currently completing a history of ExxonMobil from 1973-2004.
See the trailer at www.HaynesvilleMovie.com