Broadway, TV and film star Charles Dutton comes to campus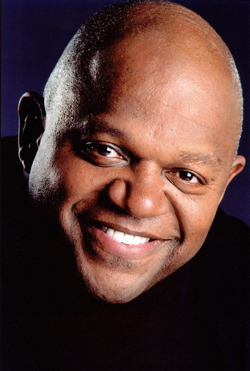 Charles S. Dutton did prison time for manslaughter. During those seven years, he fell in love with playwriting, acting and theater. He started a drama group while incarcerated and, after his release, won a scholarship to Yale School of Drama and graduated.
The story of how he defied low expectations and pursued his dream to become a Broadway luminary and Emmy Award-winning actor and director is the basis of Dutton's one-man show From Jail to Yale: Serving Time on Stage.
The African American Studies program and U.S. Dream Academy have partnered to bring Dutton to Cullen Performance Hall for a one-night-only performance at 7 p.m. on Saturday, Feb. 26. Dutton will also participate in a moderated conversation with students from 5 to 6:30 p.m. Friday, Feb. 25 in the Honors College lounge in the M.D. Anderson Library.
"This program will provide a structural analysis of culture, race, class, and gender," said Dr. James Conyers, chair of the African American Studies program. "Charles Dutton has a history of developing committed art with an emphasis on Africana life and customs."
The theater event is a fundraiser benefitting U.S. Dream Academy, a national afterschool and mentoring program that motivates children with relatives in prison to break the cycle of incarceration in their families. Tickets are $45.
"We are very pleased for this opportunity to partner with the University of Houston's Department of African American Studies to bring this riveting stage presentation to campus," said Wintley Phipps, founder and chief executive officer of the U.S. Dream Academy. "Charles Dutton is a consummate master of acting and we are grateful for his willingness to share his time and talent to raise much needed funds for our after school program in Houston."
The Houston Dream Academy Learning Center is located at Foster Elementary School at the intersection of Yellowstone and Scott streets. It serves more than 60 students daily between the ages of 8-13 through skill building, character building and dream building activities, including cultivating their appreciation for the arts.
Read more about the Charles Dutton event on the website for the U.S. Dream Academy, or buy tickets.
Read more about the African American Studies program.
—Shannon Buggs