Janis Hutchinson support of museum exhibit jumpstarts conversations about race
Discussions of race and racism tend to be avoided in casual conversation.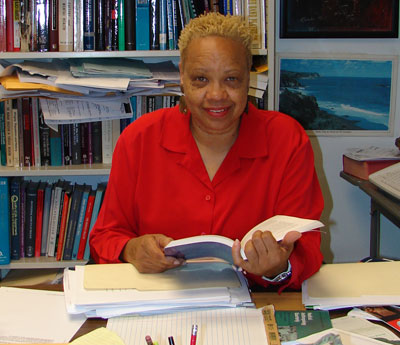 "People are afraid that talking about racism would make them racist or they think that since they are not racists they do not need to talk about it," said Dr. Janis Hutchinson, an anthropology professor in the newly formed Department of Comparative Cultural Studies.
As one of the local organizers of RACE: Are We So Different?, an exhibit coming to The Health Museum in Houston's Museum District, Hutchison anticipates people's views will shift towards more positive attitudes after seeing the exhibit.
"Our goal is to take away the taboo of talking about race," she said. "Although we deny it, racism is still a problem today and we cannot solve it unless we talk about it."
As part of the continuing integration of the Department of Comparative Cultural Studies, Hutchinson is working with other departments in the College and plans to host additional programming on campus throughout the semester based on the RACE exhibit.
"I want people to continue the discussion after they leave the exhibit," she said. "I am working with other anthropology professors and we are planning to host a lecture series on campus that will focus on human variation, race, and racism in Houston."
"The point of the exhibit is to teach the public that we are all the same, not to tell them how to think," said Hutchinson, a medical anthropologist. "We want people to understand that human variation is real; race is not. We tend to attach racist meanings because of what we learn."
The exhibit explores the history of racism as a result of racial "ranking", why it continues, and its impact on people's lives today.
"We decide on the characteristics of other people by physical features, usually skin color, not on science. We want to teach people that you can't categorize people solely based on looks," she added.
She hopes the discussions will take a wide variety of forms, from classroom to brownbag discussions. The point is to get people talking to each other.
RACE, Are We So Different? will run from October 15 until January 2012 at The Health Museum, 1515 Hermann Drive, Houston, TX 77004.
— Luis Zelaya
Related Links