Sociology professor nets honor for drug use research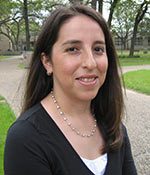 The Daily Cougar staff reporter Katie Rowald wrote an article about Sociology Assistant Professor Alice Cepeda on Sept. 21.
Here is an excerpt from the article:
Assistant sociology professor Alice Cepeda will be recognized by a national network for her research on drug use on the Latino community.
Cepeda will receive the National Award of Excellence in Research by a New Investigator at the National Hispanic Science Network on Drug Abuse's annual conference Sept. 30 in New Orleans.
Cepeda is currently studying the influence of social networks among aging Mexican-American heroin users.
Read more of the article, "Professor nets national honor for research on drug use," at TheDailyCougar.com.