Opera students perform on a smaller stage at McGonigel's Mucky Duck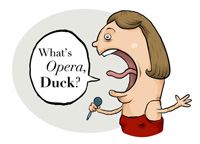 The Daily Cougar staff reporter Sara Nichols wrote an article about the Moores Opera Center performance at the Mucky Duck on Sept. 29.
Here is an excerpt from the article:
Given the age-old myth that high-pitched opera voices can shatter glass, a bar seemed an odd location for an opera show.
However, no wine glasses were broken Saturday evening when opera ensembles of up to three people performed at McGonigel's Mucky Duck, a Houston legacy and a well-known pub and live music venue in the Upper Kirby neighborhood.
The UH Moores Opera Center held its "What's Opera, Duck?" night at the dim-lit bar, showcasing a number of the program's senior and master's students, who had to be 21 to perform at the bar. The evening of music benefited the Moores Opera Center, which is celebrating the 25th anniversary of its opening in 1986.
Read more of the article, "UH Opera starts season at local bar," at TheDailyCougar.com.
Read more about the show, "What's Opera, Duck?," at the Moores Opera Center website.