José Onuchic lecture: How bacteria decide their fate in adverse times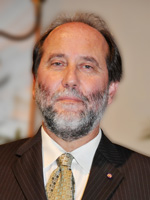 The University of Houston College of Liberal Arts and Social Sciences, The Center for Public History, the Texas Center for Superconductivity (TcSUH) and the Department of Physics welcome Professor José Onuchic from the University of California-San Diego to the Tenneco Lecture Series, which is hosted by Professor Margaret Cheung.
The free, public event takes place at 5:30 p.m., Monday, Nov. 1 in the Shamrock Ballroom at the Hilton Hotel University of Houston.
The College of Natural Sciences and Mathematics has more information about Onuchic's lecture on its website.
See the official UH press release written by Travis Coggin.