2010 Oil Spill Symposium video now online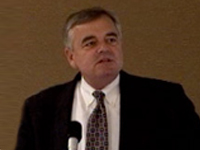 Greg Pollock was in Tampa planning the 20th annual Clean Gulf conference when he got the news about the biggest pollution disaster to ever threaten the Gulf of Mexico.
The BP-operated Deepwater Horizon rig exploded and sank miles below the Gulf's surface in April, killing 11 workers and injuring 17 others — and Pollock had to return to Texas immediately.
As the state's regulator in charge of its oil spill prevention and response program, Pollock had to assess the threat to Texas and come up with a plan to keep the oil away from the shore.
"When we took off from Tampa to fly back to Austin, it's a nonstop flight flying through the Gulf," said Pollock, a Deputy Commissioner in the Texas General Land Office. "The pilot of the Southwest Airlines flight came on and said, 'Y'all will notice this black smoke out here ... (is) from the rig.' Which was, you know, was just a horrific thought for me to be flying through that because I knew the rig wasn't there anymore and we could be facing a very, very significant event."
Pollock told the story of his office's involvement with the recent oil spill during the UH Center for Public History's Sept. 23 Oil Spill Symposium. Video from the Oil Spill Symposium is now available online. Video from Pollock's recount of the Texas response is among several other videos archived on the website.
"We had about a half-mile of tarball impacts on Galveston Island, near the beaches of the seawall," Pollock said. "Samples were pulled, they were sent to the Coast Guard lab, we did confirm a match, we knew we had BP oil. But the quantity was very, very insignificant. BP stepped up, they funded the cleanup; we got those tar balls pulled off."
Pollock also explained the history of his office, and its responsibility for leasing the submerged land offshore for 10 miles out from the coast line, which differs from the rights of other states that only retain jurisdiction over 3 miles from the coast.
"As such, we are responsible for leasing all of that submerged land for oil and gas exploration," Pollock said. "We do all of that oil and gas leasing, and all of that revenue, of course, a portion of that royalty income is then deposited in the permanent school fund. All in all, we have either a mineral interest or surface ownership of 20.5 million acres of publicly-owned land in Texas."
Visit the 2010 Oil Spill Symposium website to hear more of Pollock's 30-minute speech about oil spill response in Texas and from seven other speakers.
—Brandon Moeller