UH Army ROTC wins honors at Ranger Challenge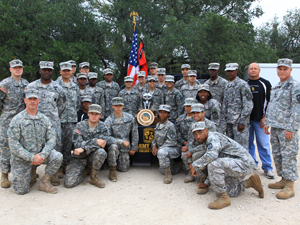 UH Army ROTC participated in the 2010 Ranger Challenge competition Oct. 22-24 at Camp Bullis, north of San Antonio.
The competition challenged cadets physically and mentally, and culminated with a foot march that began hours before sunrise and required cadets to carry 30 pounds of equipment including a rifle. The foot march stretched through a grueling 6.2 miles over uneven and hilly terrain.
Other events designed to test the cadets included a rifle disassembly and reassembly, a grenade assault course, a first aid obstacle course and day and night land navigation evaluations.
UH Army ROTC placed first in day and night land navigation, weapons disassembly and reassembly, and the 6.2 mile foot march. The UH female Ranger Challenge Team took home the overall first place win of the competition for the female category.
Houston Battalion Cadets Lisseth Jasso, Olivia Haigler, Cassandra Sherrod, Temmy Adeyeye, Gabriella Maldonado, Steony Borromeo, and Stephanie Smart participated in the competition.
Read more about the UH Army ROTC program.
—Jonathan Howard, photo by Revital Briseno