Artist | Schedule of Events | Ticket Information | Master Class Application
The University of Houston Moores School of Music presents the 31st annual International Piano Festival—a thrilling weekend of recitals a master classes with three of the world's great keyboard performers. 
Artists
Anderson and Roe Piano Duo
Greg Anderson and Elizabeth Joy Roe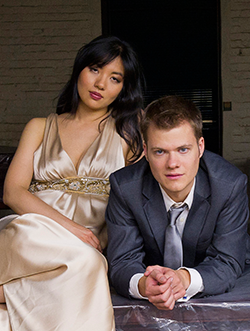 Known for their adrenalized performances, original compositions, and notorious music videos, GREG ANDERSON and ELIZABETH JOY ROE are revolutionizing the piano duo experience for the 21st century. Described as "the intense synchronization of genius" (ThirdCoast Digest) and "the most dynamic duo of this generation" (San Francisco Classical Voice), the Anderson & Roe Piano Duo aims to make classical music a relevant and powerful force around the world. Their recent album, When Words Fade (Steinway Label), was released to critical acclaim in 2012 and spent over a dozen weeks at the top of the Billboard Classical Charts, while their Emmy-nominated and self-produced music videos have been viewed by millions on YouTube. Highlights of the 2013/14 season include tours throughout North America, Asia, and South Africa; an appearance at the Gilmore International Keyboard Festival; a new all-Mozart album on the Steinway Label; and the release of their ambitious—and literally explosive—music film, The Rite of Spring. Read more
Mr. Anderson and Ms. Roe met in 2000 as freshmen at The Juilliard School and formed their dynamic musical partnership shortly thereafter. They have since toured extensively, with notable recitals in Beijing, Seoul, Singapore, Italy, Vancouver, and most major US cities, as well as in nearly every New York City venue imaginable, from Carnegie Hall to children's hospitals. Together they have appeared on MTV's Total Request Live, NPR's All Things Considered and From the Top, APM's Performance Today, the Cliburn Concert Series, the Gina Bachauer International Piano Festival, and dozens of summer chamber music festivals. Their orchestral engagements include performances with the Hartford, Santa Fe, and Lafayette Symphony Orchestras, and with members of the Metropolitan Opera Orchestra. In recognition of their singular vision for the advancement of classical music, they have been invited to present at numerous international leader symposiums, including the EG (Entertainment Gathering), the Imagine Solutions Conference, Chicago Ideas Week, and Mexico's Think Tank Festival for Brilliant Minds. Their scores are published by Alfred Music on the "Anderson & Roe Duos & Duets Series" and by Awkward Fermata Press.
Mr. Anderson and Ms. Roe left an indelible impression at The Juilliard School, where they both earned their bachelor's and master's degrees. A live performance by the Anderson & Roe Piano Duo is included on the Sounds of Juilliard CD celebrating the school's centennial year. In 2006, given only two months to compose and prepare, they gave the world premiere of their own composition "Star Wars Fantasy: Four Impressions for Two Pianos," replacing John Williams on Juilliard's "Cinema Serenades" concert in Alice Tully Hall. Additionally, the two directed the groundbreaking project "Life Between the Keys," an event that involved the entire Juilliard Piano Class of 2004; this performance project celebrated the class's unique camaraderie and chronicled its Juilliard experience in an all-American program of piano music.
Anderson & Roe believe strongly in the communicative potential of music, and their performances, compositions, websites, videos, recordings, and writings all serve this mission, bringing joy to people around the world. As the Northwest Reverb recently stated, "[Anderson & Roe] swept the audience into a cheering mass of humanity, making a strong case that playing piano is the most fun thing that two people could ever do together."
Greg Anderson & Elizabeth Joy Roe are Steinway Artists.
www.andersonroe.com | facebook.com/andersonroe | twitter.com/andersonroe
---
Abbey Simon
Abbey Simon has been hailed as a super-virtuoso whose appearances in the concert halls of the world are eagerly anticipated not only by music lovers, but also by professional musicians who come to hear him spin his own particular magic. He is recognized as one of the grand masters of the piano.
Boston Globe critic Richard Dyer wrote, "Simon's recital offered more than a glimpse into the fabled golden age of piano playing…His virtuosity is marked not only by speed, power, lightness and accuracy but also by intricate interplay of voices and lambent colors." And critic Scott MacClelland reported from the West coast "when they've written the final chapter on great pianists of the 20th century, the name Abbey Simon will be included. Indeed, that name might well mark the first chapter on 21st-Century pianists as well." Read more
Through the years, critics have hailed Simon's mastery and noted that his playing has its roots in the great pianists of the past. Improvising at the piano at the age of three, he had natural perfect pitch and began taking lessons at the age of five. After studying with David Saperton, the son-in-law of celebrated pianist Leopold Godowsky, Saperton took him to play for the great pianist Josef Hofmann. At the age of eight, Simon was accepted by Hofmann as a scholarship student at the Curtis Institute where he trained with fellow classmates Jorge Bolet and Sidney Foster, among others.
Upon graduation from Curtis, Simon went on to win numerous awards. He made his official debut in New York's Town Hall as winner of the prestigious Naumburg Award. Following this success he performed at Carnegie Hall a number of times before his debut tour to Europe. His success in Europe was so great that he did not return to the U.S. for some 12 years.
He has been the recipient of the Federation of Music Clubs Award, the National Orchestral Association Award, and a Ford Foundation Award. Following his debut in Europe, he received the Harriet Cohen Medal and the Elizabeth Sprague Coolidge Award.
Simon's recordings for Philips, EMI, HMV, and Vox make him one of the most recorded classical artists of all time. He has recorded all the concertos of Rachmaninoff, the complete works of Ravel, and Schumann's Carnaval and Fantasy. His Chopin collection encompasses some 20 disks.
Abbey Simon has served on the faculties of such noted schools as Indiana University and the Juilliard School. Simon currently holds a Cullen Distinguished Professorship at the University of Houston's Moores School of Music, where he has been a member of the faculty since 1977. Recently, Abbey Simon was presented in recital on the "Naumburg Looks Back" series in Carnegie's Weill Recital Hall.
---
Sandro Russo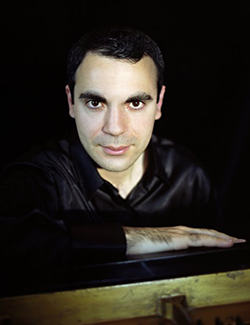 Widely acclaimed for his profound sense of poetry and distinctive style, Sandro Russo has performed for audiences around the world. He has unanimously received accolades for his sparkling virtuosity, and his playing has often been referred to as a throwback to the grand tradition of elegant pianism and beautiful sound. Garrick Ohlsson referred to Mr. Russo as "an excellent pianist with good sound, technique and range of styles."
Born in San Giovanni Gemini – Sicily, Mr. Russo displayed exceptional musical talent from an early age. In 1995, he graduated summa cum laude from the V. Bellini Conservatory and earned the Pianoforte Performing Diploma from the Royal College of Music in London 'with honors'. While still a student, he won top prize awards in numerous national and international competitions, including Senigallia, and the Ibla Grand Prize. As a result, he was invited to perform in some of the country's most prestigious concert halls. Read more
Soon after Mr. Russo came to the United States in 2000, he won the Bergen Philharmonic Orchestra Concerto Competition, and performed Liszt's A major Concerto with Maestro David Gilbert at the Bergen Performing Arts Center in Englewood, NJ. Early in 2002, Mr. Russo gave an acclaimed Chopin recital at the prestigious Politeama Theatre in Palermo, Italy, and later appeared at the Nuove Carriere Music Festival, an international showcase for the world's most promising young musicians.
Mr. Russo has given solo recitals for The Rachmaninoff Society in London, Memphis, and New York, as well as the American Liszt Society – New York Chapter. He has also performed at the Salle Cortot in Paris and the Concertgebouw in Amsterdam. More recently, he has been heard in concert at Carnegie Hall, the Moiseiwitsch Recital Series at the Music Festival of the Hamptons, the Dame Myra Hess series in Chicago, the Italian Institute of Culture in NYC, Concerts Grand in Santa Rosa (CA) and the Chetham's International Piano Festival in Manchester, U.K, where he also joined its distinguished summer school's faculty. This past November the Italian Academy Foundation presented Mr. Russo in a sold-out Chopin & Schumann anniversary concert at Carnegie Hall, which drew a standing ovation from the audience.
Mr. Russo has appeared as a soloist with the Slovak Philharmonic in Bratislava, The Jacksonville Symphony in Florida, the Brussels Chamber Orchestra at the opening gala of The Music Festival of the Hamptons (2008), and in July 2008 he had a triumphal return to his homeland in Sicily, giving three outdoor performances of the Rachmaninoff 3rd Piano Concerto in tour with the Orchestra Sinfonica Siciliana. He was also a featured soloist with the New York Asian Symphony during their Japan tour in June '09.
Mr. Russo's extensive repertoire comprises well-known masterpieces of all periods as well as more obscure and challenging works of the piano literature by such composer-pianists as Medtner, Sorabji and others. He has also been given the honor of premiering compositions by Lowell Liebermann, Paul Moravec, and Marc-André Hamelin. Lowell Liebermann wrote of him: "Sandro Russo is a musician's musician, and a pianist's pianist. There is no technical challenge too great for him, but it is his musicianship that ultimately makes the greatest impression. His interpretations reveal a unique and profound artist at work."
Sandro Russo's performances have aired on WFMT Chicago, WQXR New York, RAI Sat Show and the Slovakian TV. In January 2009 Bechstein-America invited Mr. Russo to record a DVD on the historical 1862 Bechstein piano (#576) owned by Franz Liszt. In addition, in February 2010 he recorded a DVD on the Steinway & Sons CD-75, i.e. the legendary piano on which Vladimir Horowitz performed for his concerts at the Met and London's Royal Family in the 80s.
---
Schedule of Events
Friday, January 31

7:30 pm 

ABBEY SIMON RECITAL

 
Beethoven: Sonata No. 14 in C-sharp Minor, Op. 27, No. 2
"Moonlight"
Schumann: Carnaval, Op. 9
Chopin: Sonata No. 3 in B Minor, Op. 58

 



Saturday, February 1

9 am - 12 pm


SANDRO RUSSO MASTER CLASS

 
 
12:30 - 1:50 pm


ARTIST CONVERSATIONS LUNCHEON

 
Join this year's IPF artists for the festival's best kept secret – an informal luncheon/panel discussion/Q&A on all things "piano." Admission includes boxed lunch. Advanced purchase ensures reserved meal of your choice.
 
 
2 - 5 pm
ABBEY SIMON MASTER CLASS

 
 
7:30 pm

ANDERSON & ROE PIANO DUO (Discovery Series)
Greg Anderson & Elizabeth Joy Roe, duo pianists

 
Bach/various: Brandenburg Concerto No. 3, "Erbarme dich"
from St. Matthew Passion
 

Stravinsky: Part I from The Rite of Spring

 

Radiohead: "Paranoid Android" from OK Computer
*****

 

Mozart: Papageno! (a short fantasy based on arias from Die
Zauberflöte, K. 620)


 
"Soave sia il vento" from Così fan tutte, K. 588
 

Ragtime alla Turca (after the Rondo alla Turca, K. 331)

 
Rachmaninoff: "The Tears" from Suite No. 1 for Two Pianos
 
Bizet: Carmen Fantasy

Sunday, February 2

11:30 am -   2:30 pm
ANDERSON & ROE MASTER CLASS
 
 
3 pm
SANDRO RUSSO RECITAL
 

Chopin: 4 Ballades

 
Strauss-Tausig: Nachfalter (valse-caprice)
 

Scriabin: Valse, Op. 38, Sonata No. 5 in F sharp major, Op. 53

 

Flammes sombres (Danse Op. 73),

 

Vers la flamme (Poème Op. 72)

 
Ravel: La valse
Ticket Information
Tickets to all events may be reserved by calling the Moores School of Music Box Office at 713-743-3313 or purchasing online
All programs are subject to change.
Series packages - does not include Artist Conversation Luncheon
 
 
General Admission
Students / Senior Citizens
 
Recitals ONLY
$60
$35
 
Recitals and master classes
$85
$45
 
 
 
 
Single recital tickets
 
Simon Recital
$25
$15
 
Barnatan Recital
$25
$15
 
Dedova Recital
$25
$15
 
 
 
 
Single Master Class Tickets
$10
$5
 
 
 
 
Artist Converstations Luncheon
$15 (includes boxed lunch. Advanced reservations required.)
Group Rates available for advance purchase. Please call 713-743-3313 for more information.
Free parking for all International Piano Festival events.