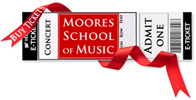 Moores School of Music
The University of Houston
120 School of Music Bldg         
Houston, Texas 77204-4017
(713) 743-3009
Contact Us / Directions

Community & Summer Programs
Preparatory and Continuing Studies
Founded in September 1998, Preparatory and Continuing Studies provides the highest quality music education for students of all ages and levels of ability.

Preparatory and Continuing Studies is a non-credit, non-degree-granting program serving more than 450 students, from pre-schoolers to senior citizens, from all over the Greater Houston metropolitan area, including College Station and Galveston.

Highly qualified Moores School of Music Faculty and graduates, as well as area specialists, provide instruction, public performances, and community outreach.
Visit the Preparatory and Continuing Studies website
Cougar Band Camp
Cougar Band Camp is the annual summer band camp for middle school, junior high, and high school students, held at the Moores School of Music on the campus of the University of Houston.
Visit the Cougar Band Camp home page on the UHBands.com website, www.uhbands.com, for more information.
Immanuel and Helen Olshan Texas Music Festival
The Immanuel and Helen Olshan Texas Music Festival was founded in 1990 to provide young professional musicians with a stimulating musical environment in which to concentrate on developing skills in orchestral, chamber music, and solo performance. The four-week residency program on the University of Houston campus is under the guidance of distinguished artists from the Moores School of Music faculty, members of the Houston Symphony, and internationally recognized guests, many of whom perform as soloists with the TMF Orchestra and on the festival's chamber music concerts.