The University of Houston Master of Public Administration (MPA) Program annually honors the outstanding public elected official who has truly provided positive influence on the ideals of public service in the greater Houston metropolitan area. Criteria for selection include the following:
Outstanding performance in a challenging work situation;
Demonstrated commitment to ethics and ethical decision making;
Places welfare of citizenry above personal, professional, and political motives;
Demonstrated public service values and influence;
Addressed problems beyond his/her jurisdictional boundaries; and/or
Maintains harmonious and supportive relationships across jurisdictional boundaries.
2014
Mario Diaz, director of the City of Houston Department of Aviation and a leading authority on the future of commercial aviation, was named the 2014 Public Official of the Year by the UH Master of Public Administration Program.
At a recent luncheon, Diaz was honored for his overall management of the Houston Airport System's three aviation facilities – George Bush Intercontinental Airport, William P. Hobby Airport, and Ellington Airport – and its more than 1,300 employees. read more
UH MPA program announces Public Official of the Year - The Daily Cougar
2013
At a February 22 luncheon, Coats was honored for capping off his long career in public service with the difficult task of guiding Johnson Space Center astronauts and staff through the transition away from manned space flight.
He was named the Public Official of the Year by the Master of Public Administration Program. read more
Public Official of the Year 2013 finalists
Four finalists have been selected for the Houston's metro area public official of the year -- City of Houston city attorney David M. Feldman, NASA Center Director Michael Coats, Fort Bend County Emergency Management Coordinator Jeff Braun, and Missouri City assistant city manager Scott Elmer. The winner will be announced at the awards luncheon 11:30 AM, Friday, February 22, 2013, at the Rockwell Pavilion on UH Campus. Contact James Thurmond for more information.
2012
First Master of Public Administration luncheon honors public service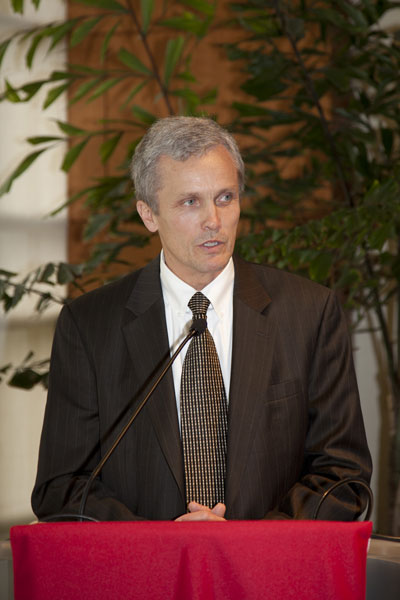 Public Official of the Year is Daniel W. Krueger, head of Houston's Public Works
What is the proper role of government in citizens' daily lives?
It's a question debated frequently these days in the run up to the 2012 Presidential Election. The various answers getting the most media attention, however, rarely include responses emphasizing practicality.