COL Neil Chaffee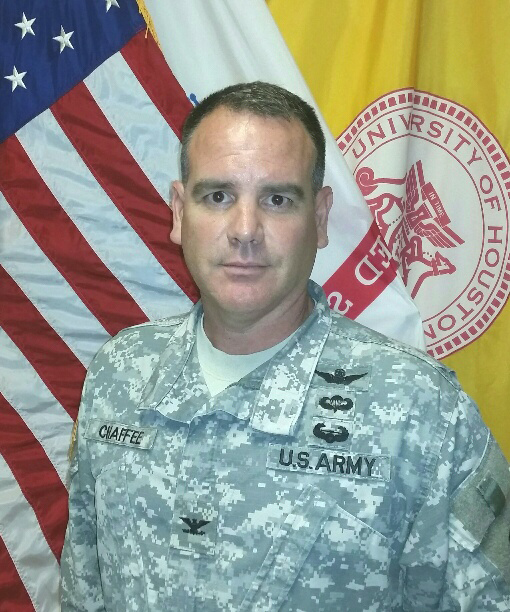 Professor of Military Science
Battalion Commander
3875 Holman St. Rm 28
Houston, TX 77204-6014
Phone: 713-743-3875
ntchaffe@central.uh.edu
COL Neil T. Chaffee grew up in the City of Houston.  He was commissioned as a 2LT in the Aviation branch upon graduation from Texas A&M University in 1994.  He earned his flight wings and designation as an Army Aviator in 1995 at Fort Rucker, Alabama.
COL Chaffee's professional career centers on Sensitive Reconnaissance Operations with manned and unmanned aircraft.  He has served multiple overseas assignments to the Balkans, Southwest Asia, South America and Europe.  He is a Master Army Aviator and has accumulated over 4,000 flight hours in various rotary and fixed-wing aircraft.  He recently commanded an Aerial Exploitation Battalion which operated a fleet of reconnaissance aircraft and associated ground systems.
COL Chaffee holds a Bachelor of Science degree from Texas A&M University and a Masters of Military Arts & Science degree from the Army Command & General Staff College.  He also holds an Airline Transport Pilot rating from the FAA.  COL Chaffee assumed duties as the Professor of Military Science at the University of Houston in January 2015.