Training Program
Physical Training
Cadets and Army Officers maintain physical fitness standards. Cadre and Advanced Course Cadets help new Cadets reach and exceed these requirements. In ROTC, physical training (PT) usually takes place three days a week, in the mornings. PT typically consists of running, strength training, and stretching, but it can also include anything from paintballing to swimming to football. For those hoping to take their physical fitness to the next level, the Ranger Challenge Team and the Bataan Memorial Death March Team present additional opportunities. 
Combat Water Survival Training
The CWST is a confidence- and strength-building exercise consisting of three different tasks: swimming across the pool with an M16, walking off the diving board blindfolded, and jumping into the pool with an LBV (load bearing vest) and dropping one's equipment before resurfacing.
Land Navigation
Practice makes perfect when it comes to Land Navigation. Cadet Campbell works to plot all his points before he begins his course, because with only a map, compass, and protractor the smallest mistake means the difference between becoming lost or finishing the course.
Field Training Exercises (FTX)
During field training exercises (FTX), in three days Cadets will participate in multiple events ranging from FLRC, Rappelling, Land Navigation, and Squad Lanes. Each event will test a Cadet's confidence, team building ability, and Leadership in different environments.
Community Service
Throughout the year, UH Cadets can be found volunteering at the Houston Rodeo, working at Homes for Troops (an organizations that builds homes for Wounded Warriors), and presenting the Colors at various community events, among many other activities
Leadership Development Program
As Cadets progress through ROTC, they take on various Cadet leadership positions, such as Squad Leader, Color Guard Commander, Ranger Challenge Team Captain, or Executive Officer, to name just a few. These positions prepare you for a variety of future careers, both in the Army and in the private sector.
Mentorship
A hallmark of the UH Army ROTC program is its mentorship program. New Cadets receive mentors, often in their field of study, who guide them through the challenges of being a Cadet. Frequent mentorship ensures that Cadets are given every opportunity to succeed in the program and take advantage of all that ROTC has to offer.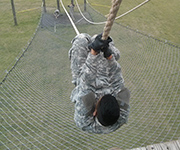 Army ROTC's four-year program teaches students to be leaders, through classroom, tactical, and adventure training. Outside of ROTC, you will maintain a normal academic schedule like all college students. Depending on when you enroll in Army ROTC, you will undergo most or all of the following courses. And the best part about this leadership development? You will use and benefit from it for years to come.
School Year Opportunities
This grueling three-day competition tests a Cadet's physical and mental strength, with tasks that range from timed Land Navigation to a 10k road march. In 2010, the UH Female Ranger Challenge Team took first place in the Brigade.
Color Guard
The UH Color Guard Team is a highly disciplined group of Cadets that serves as the face of the US Army to the local community. It trains throughout the year and presents the flag at football games, the Houston Rodeo, and formal events, often in front of thousands of spectators.