Army ROTC: It's How Students Become Leaders.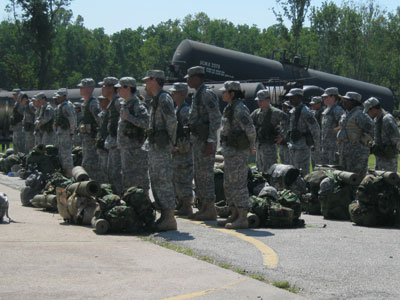 Welcome to the Army ROTC Houston Battalion website. The University of Houston is the proud and long time host to the US Army ROTC program for the greater Houston area. Founded in 1948, the program has and will continue to produce the highest quality officers in the United States Army.
If you are looking for a place where you can develop important life skills, money for college, and a chance to gain many life long friends, then you have come to the right place. There are many opportunities that await you at the Army ROTC program of Houston.
The Army Reserve Officer Training Corps (ROTC) is a cadet-led, educational and training program that is designed to provide college students in the greater Houston area with an opportunity to join the nation's oldest armed service, United States Army, as a leader, a mentor, and as an officer.
This program will help build individual confidence, leadership abilities, while achieving a college education that can be entirely paid for by the United States Army.
Every cadet participates in activities that include: physical fitness, classroom instruction, laboratories, field training exercises, color guard, community service, mentoring, and leading underclassmen.
The goal of the U.S. Army ROTC program is to develop technically competent, physically fit and highly motivated men and women for positions of responsibility as commissioned officers in the active Army, the Army Reserve and Army National Guard. Upon completion of the curriculum, students will have an understanding of the fundamental concepts and principles of the military as an art and as a science. The leadership and managerial experience gained through ROTC provides great benefit for students in both their civilian endeavors and their military careers.