Second Line Rescue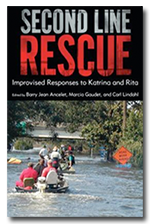 Second Line Rescue: Improvised Responses to Katrina and Rita chronicles the brave and creative acts through which Gulf Coast people rescued their neighbors during the chaotic aftermath of Hurricanes Katrina and Rita. Ordinary citizens joined in with whatever resources they had. Unlike many of the official responders, vernacular rescuers found ways around paralysis produced by a breakdown in communications and infrastructure. They were able to dispel unfounded fears produced by erroneous or questionable reporting. The essays, personal narratives, media reports, and field studies presented here all have to do with the effective and often ingenious answers that emerged from the people themselves. Their solutions are remarkably different from the hamstrung government response, and their perspectives are a tonic to sensationalized media coverage.
The first part of the collection deals with Gulf Coast rescuers from outside stricken communities: those who, safe in their own homes and neighborhoods, marshaled their resources to help their fellow citizens. It includes some analysis and scholarly approaches, but it also includes direct responses and first-hand field reports. The second part features the words of hurricane survivors displaced from New Orleans and other Gulf Coast communities to Houston, Texas. In many cases the "victims" themselves were the first responders, rescuing family, friends, and strangers. All of the stories whether from the "outside" or "inside" responders, reveal a shared history of close-knit community bonds, survival skills sharpened by hard times, and what went right in the aftermath of Katrina and Rita – in spite of all that went wrong.
Russell Atkins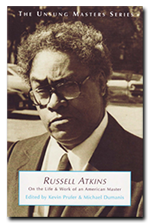 For over sixty years, poet, composer, dramatist, editor, and music theorist Russell Atkins has been admired by those who know him for his brilliant, idiosyncratic poetry and wide-ranging intellect. All his work, however, was published by small, mostly avant-garde presses and today is completely out of print. This volume of the Unsung Masters Series reprints not just a large selection of his poetry, but also includes six essays on his work, his verse drama The Abortionist and his essay "A Psychovisual Perspective for 'Musical' Composition."
Scandal Work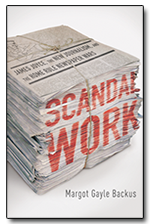 "In Scandal Work: James Joyce, the New Journalism, and the Home Rule Newspaper Wars, Margot Gayle Backus handles a fascinating topic with skill and insight. Backus treats not only the significance of scandal in relation to the work of James Joyce, but no the whole fin de siècle scene with respect to newspaper reportage, censorship, colonial politics, sexual mores, and their strategic functions in manipulating pwer in the social realm. Her book will be appreciated as a valuable addition to Joyce criticism and to Irish Studies in general."
- Margot Norris, Chancellor's Professor Emerita of English and
Comparative Literature, University of California, Irvine
Marvelous Things Overheard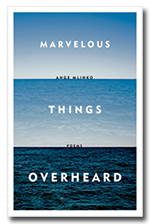 "The world – the time has come to say it, though the news will not be welcome to everyone – has no intention of abandoning enchantment altogether." Roberto Calasso's words in Literature and the Gods remind us that, in an age of reason, of mechanization, of alienation, of rote drudgery, we still seek out the transcendent, the marvelous. Ange Mlinko's luminous fourth collection is both a journey toward and the space of that very enchantment.
Marvelous Things Overheard takes its title from a collection of ancient rumors about the lands of the Mediterranean. Mlinko, who lived at the American University of Beirut and traveled to Greece and Cyprus, has penned poems that seesaw between the life lived in those ancient and strife-torn places, and the life imagined through its literature: from The Greek Anthology to the Mu'allaqat. Throughout, Mlinko grapples with the passage of time on two levels: her own aging (alongside the growing up of her children) and the incontrovertible evidence of millennia of human habitation.
Branded Bodies, Rhetoric, and the Neoliberal Nation-State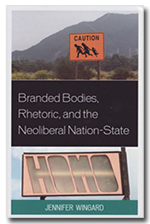 "Jennifer Wingard's book is a must-read for anyone who takes seriously the idea that words have material power. More to the point, Wingard's book pushes readers to see how rhetorics that circulate in an era of neoliberal global capital directly affect people and their place in the nation-state. Through thoughtful and cogent rhetorical analyses of U.S. legislation, she lucidly shows how rhetorics have both political and, most importantly, visceral consequences. Branded Bodies, Rhetoric, and the Neoliberal Nation-State offers a clear intervention into the rhetorical processes that demarcate those who matter and those who fall outside the purview of U.S. neoliberal values in a moment of contemporary globalization."
-Rebecca Dingo, University of Missouri