Current News
Dr. Kei-Mu Yi, M.D. Anderson Professor of Economics at UH, has been appointed as of May 1, 2016 to be a Research Associate at the National Bureau of Economic Research (NBER). More...
The Economics Department is pleased to announce the appointment of Dr. Kei-Mu Yi as the M. D. Anderson Chair in Economics as of January 2016. More…
The University of Houston (UH) Masters of Arts (M.A.) in Applied Economics ranked 6th among other applied economics master's degree programs by The Financial Engineer's 2015 Master of Economics Rankings and 34th overall for master's degrees in economics in the nation. More...
Past News
Economics Virtual Library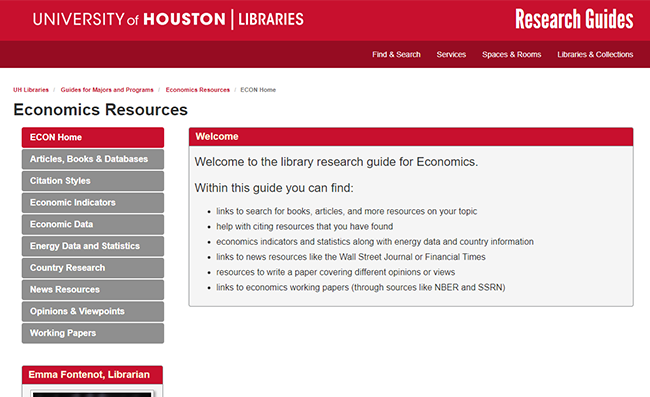 The University of Houston Libraries manages a web page which features popular resources for researchers studying economics. The Economics Virtual Library includes access to World Development Indicators, a comprehensive database of development data; Hoovers, a database of comprehensive reports from publicly traded companies; International Financial Statistics, a publication and database maintained by the International Monetary Fund; The Social Science Research Network, which includes access to articles in varying disciplines; as well as thousands of books and journals encompassing many different subjects.
Upcoming Seminars
Read more about upcoming seminars.