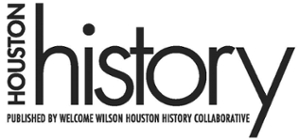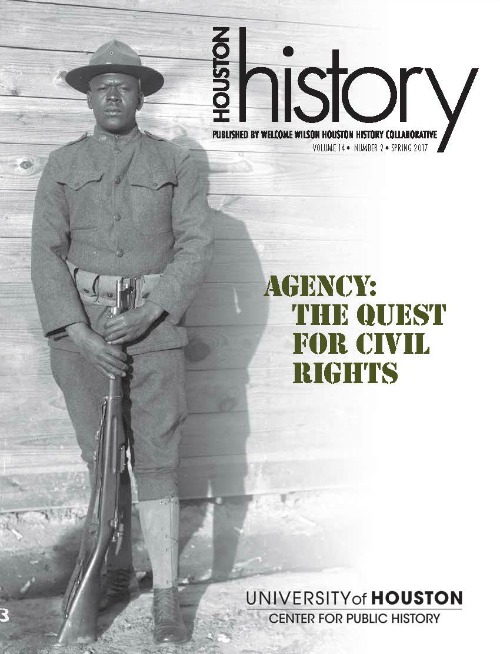 Houston History, a  magazine published by the Center for Public History at the University of Houston, is the voice of history and culture throughout the Houston area. It aims to provide Houstonians with the opportunity to learn about all aspects of Houston's history. The articles published will seek to educate and entertain while exploring important aspects of Houston's history and culture.
---
The cover story of the spring issue of Houston History will revisit the Camp Logan incident that occurred one hundred years ago in August 1917.  The U.S. Army sent African American troops to Houston to guard construction of Camp Logan, a World War I training facility, on the assurance that the black soldiers would be treated respectfully by local citizens. Instead the troops endured racial slurs and discrimination when in town and had to surrender their weapons because black soldiers with guns were seen as offensive by some whites. A clash between Houston police and the African American troops, along with rumors of a white mob advancing on the camp, led to an armed conflict between the soldiers, police, and local residents that resulted in the only race riot with more white casualties than African American. After a number of the soldiers were hanged without due process, President Wilson intervened to ensure military justice codes were changed to prevent future injustice. Most significantly, however, is that this piece of history is one we do not talk about; even teachers have frequently never heard the story. Yet learning what happened at Camp Logan and why it happened can help us understand the long history of  racial conflict in his country today.
The author, Matthew Crow, an Army veteran who served in Iraq and Afghanistan, wrote this article for the Houston History class in the Honors College at UH, where he will graduate in May. The upcoming issue, "Agency: The Quest for Civil Rights" will be released in mid-May. To subscribe, read our back issues, or learn more about the magazine, please visit https://houstonhistorymagazine.org/.