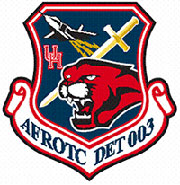 Air Force ROTC
University of Houston
109 Garrison
Houston, TX 77204
Phone: 713-743-4932
afrotc@uh.edu 
News & Events

Announcements:
Every cadet/applicant that does not have a Department of Defense Approved Medical Exam must accomplish a Pre-participatory Physical each school year, utilizing the Form 28 attached here. This form is required to participate in the Physical Training and must be accomplished no later than 30 days after the host school is in session. This is a competitive program, do not wait to get the form accomplished, you can do this now and bring it with you to the first Leadership Laboratory. There are a variety of low cost places you can get Sports Physicals other than your family physician or pediatrician. You might try your University or College's Student Medical Center or your local Pharmacy, such as Walgreens.
New Cadets, you are required to bring the following to LLAB 1, 15 Jan 2014.

Social Security Card
Birth Certificate (original, if not original then a certified copy)
Selective service number for males (if you do not have your number visit www.sss.gov, click on "check a registration" and input the appropriate information to retrieve your #)
Current immunization records
Bank account and bank routing number (can be found on a check)
High School Transcript (certified copy is okay)
College Transcripts (if any); these can be printed copies, not official
If you were in JROTC, bring certificate of completion
Provide permanent address, phone number, and email
SAT and/or ACT scores; these can be printed copies
Completed Form 28 Pre-Participatory Physical, Form 28. See NOTE above.

New Sophomores and returning Sophomores, you may be competing for an Enrollment Allocation and must ensure you enroll in both GMC courses:

AFSC 1202, Foundations of the USAF
AFSC 2202, Evolution of Air and Space Power
If you are unsure if this applies to you, ask the AFROTC Cadre for clarification.

Returning Cadets without a Department of Defense Medical on file with us, you are required to bring a Completed Form 28 Pre-Participatory Physical, Form 28 to LLAB 1, 15 Jan 2014. (Use the link above.)
SPRING 2014
13 January 2014 − First day of University of Houston Classes
15 January 2014 − First Day of Leadership Laboratory
NOTE: New cadets, you will be briefed on what paperwork you must provide either via email before the first LLAB.