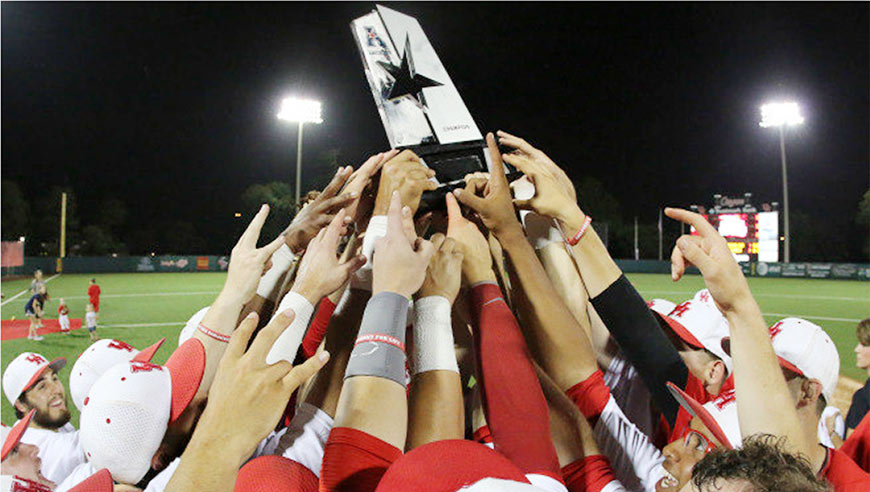 ---
The University of Houston is the home to one of the most storied athletics programs in the nation. The Cougars have won 62 NCAA individual championships and 17 NCAA team titles, now been in 21 bowls, appeared in five NCAA Finals Fours in men's basketball, and earned a berth to the College World Series.
In addition, UH can boast of more than 899 All-America award winners and 39 Olympic medal winners (including 20 Gold Medals). Cougars have reached elite status in several professional sports- a Master's champion, a NBA MVP, a Cy Young Award winner, and three of the NBA's Top 50 Greatest Players.
But our athletes aren't limited by the 17 intercollegiate sports offerings. Each year, thousands of students participate in more than 30 intramural activities through our Campus Recreation programs.
And our award-winning, 264,000 square-foot Recreation and Wellness Center provides state-of-the-art fitness equipment, a world-class natatorium, and plenty of court space for our students, faculty, staff, and alumni to enjoy.
Athletics
Tue, 28 Apr 2015
By None:: Hunter Yurachek, who was honored as the 2014 Under Armour Football Championship Athletic Director of the Year, has been named vice president for intercollegiate athletics and athletic director at the University of Houston.
---
Wed, 18 Mar 2015
By Richard Bonnin:: The University of Houston has hired Atlanta-based search firm College Sports Solutions (CSS) to assist in its hiring of a new athletic director.
---
Mon, 09 Mar 2015
By Richard Bonnin:: The University of Houston will launch a national search for a new athletic director to replace Mack Rhoades, who has accepted the same position at the University of Missouri.
---
Mon, 10 Nov 2014
By None:: UH's Powerhouse campaign, which uses the slogans "Welcome to the Powerhouse" and "This is the House Innovation Built" and features high-impact photography and design, is expected to tally more than 65,000,000 impressions now through spring 2015.
---
Wed, 01 Oct 2014
By Richard Bonnin:: In an inspiring speech before an enthusiastic audience at Moores Opera House, UH System Chancellor and UH President Renu Khator declared that success for the University of Houston is "critical to the city, and equally critical to the nation."
---
Thu, 28 Aug 2014
By None:: The University of Houston has released its 2014 national commercial, which highlights the University's 667-acre campus, including the new TDECU Stadium, and features students and athletes in action.
---
Wed, 06 Aug 2014
By None:: The University of Houston today announced a long-term partnership with leading hospitality and facilities services provider Aramark to serve as the exclusive provider of venue management, food, beverage, retail merchandise and facility maintenance services at all of the University's athletics facilities and Cullen Performance Hall.
---
Tue, 08 Jul 2014
By None:: The University of Houston and TDECU, the largest credit union in the Houston area, announced a naming rights gift Tuesday that rebrands the Houston Football Stadium as TDECU Stadium. The facility is set to open Aug. 29 when Houston hosts UTSA in a nationally televised showdown.
---
Mon, 17 Mar 2014
By Mike Emery:: For more than two decades the college has delivered insightful discussions and gourmet dinners to Houstonians during "The Great Conversation." At the heart of this annual fundraiser are meaningful supper chats led by esteemed experts and noted scholars.
---
Thu, 30 Jan 2014
By :: Beginning Friday (Jan. 31), UH will play host to the 2014 Cougar Cup Wheelchair Rugby tournament, featuring eight teams from as far away as Calgary and Switzerland. UH Professor Michael Cottingham says UH is looking to become only the second University nationwide to offer a wheelchair rugby program.
---
Thu, 30 May 2013
By Shawn Lindsey:: The American Athletic Conference unveiled its new logo and marks today, giving the reinvented conference a new visual identity. The creation of the logo and marks is a part of the ongoing branding of The American, formerly known as the Big East.
---
Thu, 02 Feb 2012
By Mike Emery:: UH Athletics Director Mack Rhoades praises passage of fee increase, calling it a "turning point" for the university and its athletics program.
---
Fri, 09 Dec 2011
By Shawn Lindsey:: UH has officially accepted an invitation to join The BIG EAST Conference and will enter the league for the 2013-14 academic year. With this exciting announcement, Houston Athletics has called for a "celebratory" press conference for Friday afternoon (Dec. 9) at 1 p.m. in the Moores Opera Center. UH students, alumni and fans are encouraged to attend this event.
---
Wed, 07 Dec 2011
By Shawn Lindsey:: The BIG EAST Conference Board of Directors, by a unanimous vote of its Presidents, extended the invitations for membership. UCF, Houston and SMU will begin competing in all BIG EAST-sponsored sports in the 2013-14 academic year, while Boise State and San Diego State will start competing in football in the 2013 season.
---
Mon, 05 Dec 2011
By None:: The University of Houston has accepted an invitation to play in the 2012 TicketCity Bowl. The Cougars will face the Penn State Nittany Lions at 11 a.m., Jan. 2 at the Cotton Bowl in Dallas, Texas.
---
Wed, 30 Nov 2011
By Mike Emery:: Fans will be wearing their best Cougar red this week to support the UH football team as it prepares for the Conference USA championship game on Dec. 3. The school's colors also will be prominently displayed downtown as Houston's City Hall will be illuminated with red lights to support the Coogs' efforts.
---
Sat, 19 Mar 2011
By None:: UH head swimming coach Mark Taylor passed away late Friday evening of an apparent heart attack in Austin, Texas. His wife, Lorraine, and his two sons, Troy and Zane, survive Taylor, 50.
---
Tue, 09 Nov 2010
By Mike Emery:: UH alum Don Chaney launched the spirit campaign, CrankItUpCoogs. On his own time, he traveled around the city asking business owners to hang red UH flags in front of their establishments.
---
Fri, 02 Jul 2010
By None:: Returning to his alma mater, Todd Whitting rejoined the University of Houston baseball program as its head coach on Friday, Director of Athletics Mack Rhoades announced.
---