The 'Drive to Tier One' Initiative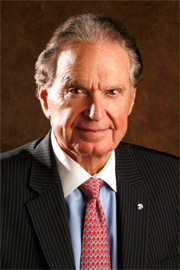 Welcome W. Wilson, Sr. has served on UH System Board of Regents since 2006. He was chairman for three terms. He is chairman of GSL Welcome Group, LLC., a group of companies that own and lease single-tenant, industrial facilities in Texas. He is on the Board of the Greater Houston Partnership and chairman of its Higher Education Committee. He has held federal positions under Presidents Eisenhower, Kennedy and Johnson. He received a BBA degree from UH in 1949, where he received its UH Distinguished Alumnus Award in 1970.
Achieving Tier One status for the University of Houston will create essential educational and economic benefits for Houston and the region for generations to come. Drawing on greater support from the state and the private sectors, UH will be able to enhance the quality of student education, attract and retain more high-quality faculty, qualify for greater federal research funding, increase technology transfer to the commercial arena and attract new business and industry to the area.
To help establish and maintain the partnerships necessary to accomplish this goal, UH President Renu Khator appointed Welcome W. Wilson Sr. to chair the university's "Drive to Tier One" initiative. "Our city deserves a Tier One university, and with Regent Wilson leading our Drive to Tier One public initiative, I'm confident that our vision will become a reality," President Khator explains.
In this capacity, Wilson, a UH System Regent and immediate past chair of the Board of Regents, is working to mobilize the community and alumni organizations in support of the Tier One initiative. He also is collaborating on the university's Tier One agenda with elected officials.
"Tier One status will be transformational for UH," Wilson says. "The impact on Houston will be enormous, in the same way that Massachusetts has become a center for high-tech companies because of MIT and Harvard. I am happy for the opportunity to push our objectives forward with the public and the Legislature."
Links