Director of Division Business Operations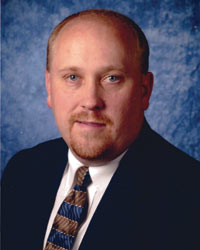 Steve Bangerter, who joined the University of Houston in 2004 as a business administrator for the Department of Mechanical Engineering, now serves as University Advancement's director of business operations.  In this capacity, he is responsible for managing the division's budget, administering the human resource and payroll processes, providing accountability and ensuring compliance with policy and procedure.  In addition, he oversees space management, desktop support, and the Division's onboarding and training process.
He also worked as the director of business operations for the College of Technology for more than four years before joining University Advancement. 
Steve earned a bachelor's degree in management, with a minor in finance, from the University of Wyoming.  He started his career at the University of Wyoming, working in different positions for more than 14 years – the last seven was as a business manager for the American Heritage Center, the school's noted research and archival institution.  
He earned an MBA from the Bauer College of Business at the University of Houston.  
Having grown up in Wyoming, Steve is an avid outdoorsman and loves to spend time hunting and fishing in his spare time.