Marketing & Branding
Enita Torres, Art Director

A native New Yorker, Enita came here 30 years ago under protest and unexpectedly fell in love with Houston. A big reason for her conversion was the amazing and affordable University of Houston. She graduated from UH with a BFA in Design/minor in Art History ('89). A proud design nerd, she is obsessed by fonts, composition and technique. After graduating, she ran the graphics/photography department at the UH College of Optometry for eight years, then did contract design work for various Houston corporations, followed by six years at the Houston Chronicle as an animation designer. Enita is delighted to be back at her alma mater, designing for a cause near and dear to her heart. When she's not promoting Red, Enita enjoys working on her needy 1920 Heights' bungalow with her sainted partner of 25 years, Barbara. She also loves cooking, carpentry, metalsmithing, traveling, knitting and irony.
Brandy Holmes, Assistant Director of University Marketing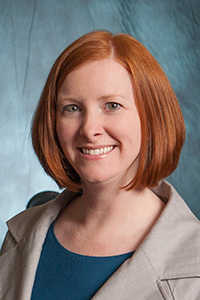 Brandy, a native Houstonian and University of Texas at Austin graduate, developed her marketing leadership skills with creative companies in New York City and Houston. In New York, she worked in the music industry with Wind-up Records and in publishing with The Overlook Press. Upon returning to Houston, Brandy worked as the marketing manager at Stages Repertory Theatre before coming to the University of Houston School of Theatre & Dance in 2007 to work as the marketing manager. With more than a decade of professional experience in creative environments, Brandy currently serves as the assistant marketing director in the office of Marketing & Communication. She's a passionate "brand nut" who can talk your ear off about brand strategy, visual identity and research. Brandy loves raising a family in Houston and enjoys attending arts events and trying new restaurants with her husband – when she can find a babysitter.
Nerissa Lawford, Communications Manager

Nerissa, a Jamerican, was born and raised in Houston and is a proud UH alum. She admittedly "stumbled" into the art of communications during college and never looked back. She graduated from UH with a B.A. in Communications and a Minor in Marketing, and today is a member of the board of directors for the University of Houston Jack J. Valenti School of Communications Alumni Association. Prior to her role as Communications Manager for UH, she acquired communications, marketing, copywriting and event planning experience as an Account Manager at Association Management Consultants, a Marketing Coordinator at NACE International, a Copywriter at Garden Ridge and as a copywriter intern at Fogarty Klein Monroe. In her free time, Nerissa is an avid soccer player and fan. She loves reggae music, traveling, shopping, game nights, watching Golden Girls reruns and spending quality time with family and friends.
Megan Streete, Communications Director, College of Architecture
Megan never imagined after 20 years her life would lead her back to her hometown of Houston. After graduating from Baylor University, Megan followed her dream of working in journalism and moved to New York City to work in network news. Throughout her 10 year career producing breaking news, Megan worked for a number of notable national news programs including ABC Good Morning America, CNN Anderson Cooper 360, Connie Chung Tonight and Paula Zahn Now. As a Senior Editorial Producer, she traveled to breaking news stories across the country to produce live remotes for various anchors. After winning a Peabody and DuPont award for Katrina and Tsunami coverage, her desire for a "blackberry-less" life became more desirable than winning the ratings rat race. Since returning to Texas, she has worked with a diverse group of clients providing media training, website consulting, public and media relations. When she is away from the office, you can find her and her husband mastering their BBQ skills or taking road trips in the Texas Hill Country.
Tammi Bui, Senior Graphic Designer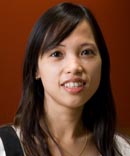 To Tammi Bui, graphic design is a career, not a job. And she brings that attitude to work every day as a senior graphic designer. Tammi has a graphic design degree from Bradford School and brings more than nine years of experience to UH. Before coming to UH, she worked for Mikel Marketing as creative director, and also got involved as an event coordinator for runway fashion shows and red-carpet events. Tammi likes to work hard and play hard, and is lucky enough to have her favorite hobby also be her job. She also runs her own freelance graphic design firm. Tammi says she values things that money can't buy – and for everything else, there's Mastercard.
Damisi DeLaney, Senior Graphic Designer

Damisi DeLaney is passionate about design that blends vintage and modern techniques; is a total sports fan since she grew up the only girl among four brothers, and is obsessed with shoes but hates shopping. Her mix-and-match style inspires an original approach to life and work. Originally from California, Damisi has been in Houston eight years, during which she graduated from the University of Houston with a Bachelor of Fine Arts in Graphic Communication. Her five years' experience in design includes McAby Media, where she did layouts, applications, web and print design, trade show collateral, photography and food styling. At home, she collects vintage pin up girl graphics (1920's through 1940's) and anything else graphically appealing. She took a motorcycle training course a few years ago, hoping her husband would invite her join his bike club. That invitation is still pending.
Jessica Villarreal, Photographer/videographer
Jessica Villarreal loves capturing the moment with images that tell the story. The Houston native first picked up a camera during a high school photography class and clicked beautifully with the process and the art. She went on to receive her Bachelor of Fine Arts in Photography from The Art Institute of Houston, while launching her own photography studio. She specializes in contemporary, natural-light photography of newborns, children, teens and families, as well as other genres. When not focusing on the perfect shot, Jessica enjoys trying "quirky" restaurants, shopping for antiques and working on her blog.
Aaron Rodriguez, Videographer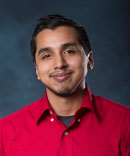 A Houston native and UH alum, Aaron Rodriguez is at home behind the video camera, capturing and editing the important moments of each event. Aaron began his professional training at San Jacinto College North, and received his B.A. in Media Productions here at UH. His portfolio of work here at UH has been shown on ESPN, Discovery Channel, and PBS. In addition to his work here at the university, Aaron has eight years of freelance experience, shooting everything from television commercials to weddings. In his off time, he is an avid PC gamer and loves listening all types of music, except country. Not surprisingly, the man behind the camera is also a huge movie fan, and tries to see at least one movie a week. But most of down time is spent experimenting with photography and with software such as Photoshop, Adobe After Effects and 3D Studiomax – work that helps him perfect his craft.
Vanessa Colchado, Communications Coordinator
Born and raised in Houston, Vanessa comes from a long line of proud UH alumni. Being one herself, she takes pride in her role as a member of the marketing team contributing to the University's growth. She began her marketing career with the Campus Recreation Center and developed as a marketing professional while working with the Houston Astros and in the insurance industry. As an avid sports fan, she enjoys filling her weekends by taking in a game or yelling at the TV while watching a game. She also enjoys traveling and reading a good book now and then.
Camille Domangue, Graphic Design Intern
Camille Domangue will graduate with a Bachelor of Arts in Graphic Communication in 2015. Her natural artistic talent first emerged in her sketches and drawings as a child. In high school she turned to painting and today she develops graphics projects by hand and silk screen prints in the UH Graphic Communications program, which is craft-based for the first two years. On her own time, Camille experiments with film photography and develops her own negatives, and creates elegant origami. Her goal is to travel the world as a graphic designer and artist. "I'm very interested in other cultures, because there is so much out there to learn. I feel I can continue my great UH education by going out in the world and being hands-on." Camille is a member of the Blaffer Student Association and just recently volunteered at Blaffer Art Museum's grand reopening gala. "I got to see all the people who donate and contribute to our university's art museum. It was a beautiful event."
---
Web Team
Bill Herndon, Director of Web Communications

Illinois native Bill Herndon brings a web of professional and personal creativity to the University of Houston. He has developed new technology communications strategies for nearly 20 years in state government and higher education venues. While Director of Web Services at Kansas State University, he also served on the university's Theater Board; has acted in community theaters, and was a founding member of a comedy radio program that aired for two years. And yes, he started out decades ago as the singer in a garage band – rock on. The U.S. Navy veteran holds a bachelor's degree in political studies from the University of Illinois-Springfield. He is excited to be at UH and living in Houston because both offer so many opportunities to be involved in the arts.
Eduardo Balingasa, Web Project Manager
It was the allure of computers and other "shiny new gadgets" that drew Eduardo Balingasa to a career in Web development. As a Web developer for the UH office of Marketing & Communication, Eduardo – known as Edu – helps keep the university's Web site up and running. Born in the Philippines, Edu grew up in Africa. He has an associate's degree in computer graphic design from Kingwood Community College and is working on his bachelor's here at UH. He began his career as a graphic designer in 1994, and began Web development in 1996, working both for Lone Star College-Montgomery and on a freelance base. Here at UH, Edu uses both skill-sets, working behind the scenes to make sure department and college Web site redesigns are launched with no disruption of service.
Jessica Brand, Social Media Manager

It was the chance to get people talking and excited about her alma mater that drew Jessica Brand back to the University of Houston. As the Social Media Manager for the office of Marketing & Communication, Jessica is in charge of managing the university's message through a variety of social media streams. A 2004 graduate of UH with a B.A. in Communications and a specialization in media production, Jessica has nearly ten years of experience in the communications industry. She spent three and a half years with the global media provider, Cision, assisting the company with a rebranding effort, producing videos, analyzing trends and managing a team of media experts. Prior to that, she served as director of photography, editor and producer of several television commercials for cruise ship events. She has created original Web content for corporate and non-profit organizations and designed promotional materials for local arts events. On the side, Jessica enjoys making music, attending concerts and sailing.
Celeste Hayes, Web Project Manager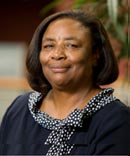 Seeing how fast the Internet industry was growing, Celeste Hayes got involved. She received her BBA in Management Information Systems at UH's Bauer College of Business. Now with the Marketing & Communication Web team, Celeste now develops and implements applications, database interfaces and services for the UH Web site, using programming languages such as ASP, PHP and markup languages such as HTML and XML. Beyond the Web, Celeste has many interests, including genealogy. She currently is writing a resource book for Texas genealogy. She also loves reading mysteries, taking nature walks, and singing and dancing.
Tiffany Norman, E-Communications Coordinator

Words, with their ability to inspire images and connections in the mind and heart, have always fascinated Tiffany and led her to pursue a B.A. in English with emphasis on Creative Writing at Texas State University in San Marcos. As a Houston native, she grew up admiring the symbiotic relationship between the University of Houston and the city she calls home. Prior to her current Advancement position, she held a marketing and communications position with UH's Department of Enrollment Services. In her free time, Tiffany enjoys reading, writing and exploring creative endeavors.
Rainer Schuhsler, Web Developer III
Houston native Rainer Schuhsler attended the University of Houston for a year before transferring to Texas Tech University where he graduated with two degrees, a Bachelor of Arts in advertising and a Bachelor of Arts in sociology. While finishing his degrees in Lubbock, Texas, Rainer worked as a freelance web designer and developer and worked part-time as a graphic designer. After graduation, Rainer was hired full-time as Marketing Director by his employer and later promoted to Creative Director. Rainer is excited by new technology and the speed at which the web evolves and enjoys the challenges associated with a large university website. In his spare time he attends indie rock concerts and occasionally designs and screen prints concert posters for artists he likes.