Dean and Leonard H. Childs Professor of Law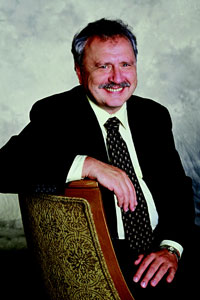 Raymond T. Nimmer is currently the Leonard Childs Professor of Law at the University of Houston Law Center and co-director of the Houston Intellectual Property and Information Law Institute.
The author of twenty books and numerous articles, the first edition of his book The Law of Computer Technology received a national book award from the Association of American Publishers in 1985 and is currently in its third edition. He has also published a book on Information Law (West) and The Law of Electronic Commercial Transactions (Pratt & Sons, 2003) with Holly Towle. His most recent book is "Modern Licensing Law" (2nd edition, 2006, West Publishing) (with Jeff Dodd).
Professor Nimmer is a frequent speaker at programs in this country and overseas in the areas of intellectual property, business and technology law. He was the co Reporter to the Drafting Committee on Revision of U.C.C. Article 2 and the reporter for the Uniform Computer Information Transactions Act (UCITA). He is a consultant to the National Science Foundation and the Office of the Legal Advisor of the U.S. State Department. In addition to his expertise in technology issues, he is a expert in areas of business law. He is the author of a four-volume treatise on Commercial Asset Based Financing and was a Contributing Editor for a leading multi volume treatise on bankruptcy law.
He is admitted to practice in Illinois and Texas as well as the United States Supreme Court. He is as a member of the American Law Institute, the Texas Bar Foundation, and the American College of Commercial Finance Attorneys. He is listed in Who's Who in America, Who's Who in Law, the International Who's Who of Internet Lawyers, and the International Who's Who of Business Lawyers.