Dean, C.T. Bauer College of Business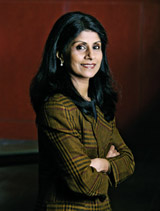 Latha Ramchand is Dean and Professor of Finance at the C. T. Bauer College of Business at the University of Houston. Her previous roles at Bauer include Associate Dean of Programs and Administration, where she was responsible for oversight of all the college's academic programs, and Associate Dean of Graduate and Professional Programs, where she led faculty and staff serving in Master of Business Administration (MBA), Executive MBA Master of Science in Accountancy, Master of Science in Finance, Doctor of Philosophy (Ph.D.) and a variety of professional programs, including Energy Certificate Programs.
Ramchand teaches in the areas of Corporate and International Finance and Risk Management. She received her Ph.D. in finance at Northwestern University where she attended the Kellogg Graduate School of Management. She is a gold medalist in Economics from Bombay University where she graduated with a master's degree in Economics. Professor Ramchand has taught in the MBA programs at the Kellogg Graduate School of Management, Northwestern University, the University of Houston and the Indian School of Business.
Ramchand is a noted expert and speaker on several topics, including international and corporate finance, energy education, corporate governance and leadership, global business, energy and the economy, and women in leadership.
She has won several awards for her publications, including Best Paper Award in International Finance from the Financial Management Association. Ramchand has also been recognized for her teaching, receiving the 2012 Executive MBA MidCon Teaching Excellence Award and the UH Faculty Excellence Proclamation awarded by the Houston City Council (1995), among other honors. Her publications have appeared in prestigious finance journals, and she has presented her work at various national and international conferences. She is a CFA charter holder and is a member of the Houston Society for Financial Analysts. Ramchand worked in the banking industry prior to joining academia.
Her research interests include international asset pricing models, global equity issues, home bias in portfolio composition, mergers and acquisitions, and corporate governance and leadership.