Dean College of Liberal Arts and Social Sciences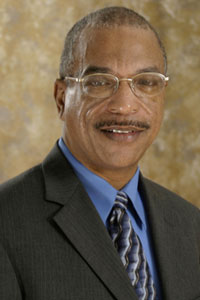 John W. Roberts became the dean of the College of Liberal Arts and Social Sciences (CLASS) and a Professor in the Department of English at the University of Houston in July 2010. Before his UH appointment, Dr. Roberts held appointments as Professor of English and Dean of Arts and Humanities at The Ohio State University in Columbus. His administrative experience also includes service as chair of the Department of African American and African Studies at Ohio State and Director of the Afro-American Studies program at the University of Pennsylvania, where he was also an associate professor in the Department of Folklore and Folklife.  In 2000, he enriched his academic experience and accepted a two-year appointment from the Clinton White House and served as Deputy Chairman of the National Endowment for the Humanities.  
As dean of CLASS, Dr. Roberts has sought to better integrate the fine arts, humanities and social sciences in order to make the college a more coherent academic unit reflective of its human and intellectual diversity.  He commissioned and worked with an ad hoc committee on diversity to develop activities designed to support an inclusive educational and work environment. To enhance the intellectual and research environment in the college, he appointed an ad hoc committee to identify, develop and promote interdisciplinary and collaborative approaches and programs to enrich both faculty teaching and research. Through his leadership of the UH Arts initiative, he has forged significant new links with the Houston arts community, especially through his work on collaborative initiatives with the Houston Arts Alliance and the Alley Theatre. 
Dean Roberts has taught and published in the fields of literature, folklore and African American studies. In addition to numerous articles and book reviews, he has published two books: From Hucklebuck to Hiphop: Social Dance in the African American Community in Philadelphia and From Trickster to Badman: The Black Folk Hero in Slavery and Freedom. His academic expertise has been recognized with a Guggenheim fellowship and appointment as a fellow of the American Folklore Society.
In addition, he has served in a number of important appointed and elected positions such as the President's Committee on the Art and Humanities, the board of the Smithsonian Institution's Folklife and Cultural Studies Programs, the White House Initiative on HBCUs, the presidency of both the American Folklore Society (1997-1999) and the Association for African and African American Folklorists (1989-1997).
He holds a bachelor of arts degree in English from Tusculum College, a master of arts in English from Columbia University, and a Ph.D. in English from the Ohio State University.