President and Chief Executive Officer, University of Houston Alumni Association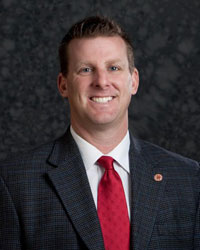 Mike Pede ('89) became the president and CEO of the University of Houston Alumni Association in March 2010. He graduated from UH's Conrad N. Hilton College of Hotel and Restaurant Management and also served as Shasta, the university's mascot.

Prior to starting his role with the UHAA, Pede was the director of sales for Live Nation's North American Music Division and he also serves as partner and founder of GameDay Consultants, LLC, an event marketing and sponsorship consulting firm. He also spent three years as general manager, chief operating officer and minority owner of the Bay Area Toros minor league baseball team. All of these experiences allowed Pede to form relationships with local and national corporations and community partners.
Not only did Pede attend school at UH but his professional career has roots here as well, having spent six years as director of marketing for the university's athletics department. He then worked his way up to associate athletic director at Rice University.

Pede is married to the former Melanie Stinson, a fellow UH graduate, and has two daughters, Kelsey and Krista.