Vice Chancellor for Research and Technology Transfer, UH System
Vice President for Research and Technology Transfer, UH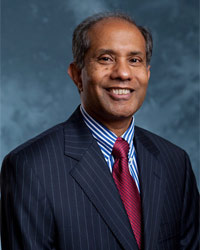 Rathindra Bose received his Ph.D. degree in chemistry from Georgetown University, Washington D.C., in 1982. Currently he is serving as the Vice Chancellor for Research and Technology Transfer, University of Houston System, and Vice President for Research and Technology Transfer, University of Houston. He holds a tenured professorial appointment with the Department of Chemistry. Among Bose's achievements include the discovery of a new class of anticancer agents Phosphaplatins that exhibits superior efficacy with reduced toxicity in preclinical experiments compared to existing platinum anticancer drugs. A New York-based biotechnology company, Phosplatin Therapeutics, has licensed his anticancer agents.
In his administrative capacity, he has oversight responsibilities for the Division of Research, including the Office of Contracts and Grants, the Office of Research Policies, Compliance and Committees; the Office of Intellectual Property Management; and various centers and institutes that report to the Division of Research. Before joining the University of Houston, he served in a similar capacity at Ohio, Northern Illinois and Kent State Universities. Both at Kent State and NIU, the University Press was under his portfolio. During his tenure at Ohio University, Bose served with distinction both as a faculty member and as an administrator. He received a distinguished scholar award and four outstanding/distinguished teaching awards. He was also nominated by Kent State University for the 1997 CASE U.S. Professor of the Year award. His notable administrative accomplishments include the creation of new multidisciplinary research institutes, two multidisciplinary doctoral programs, a significant increase of extramural funding, the creation or revision of research policies (conflicts of interest, research misconduct, and intellectual property), implementation of electronic research administration, addition of new research facilities and infrastructure, recruitment of many highly talented faculty, revision of tenure and promotion policies, and service as the assistant chair for the university wide tenure-promotion committee.
He has published extensively in his own field as well as interdisciplinary/multidisciplinary areas that extend to structural biology and materials science. He is an author of five issued and five pending patents. He has delivered numerous talks as an invited symposium and plenary speaker at both national and international meetings. He has successfully supervised dissertations and theses of 14 Ph.D. and several M.S. students. His research has been supported through several grants from the National Science Foundation, National Institutes of Health, Cancer Prevention and Research Institute of Texas, Illinois Board of Higher Education, Phosplatin Therapeutics, Ohio Board of Regents, and the U.S. Department of Education. Dr. Bose has served as a reviewer for funding agencies, a reviewer for more than fifteen international journals, an ad hoc member of the Metallobiochemistry Study Section at NIH, a panel member for the NSF, and a member of the editorial boards of three journals. He is currently serving as the chair of the Science Advisory Board of Phosplatin Therapeutics, a board member for BioHouston, and Southern Universities Research Association.