Keep Houston Red: Red Friday Program
Cougar Red Friday is part of our ongoing Keep Houston Red initiative at the University of Houston. We encourage our campus community and those all around the city of Houston to wear Red on Fridays and show support for Houston's top-tier University. Here at UH, wearing Red on Friday is more than just a tradition; it is who we are. We wear Red to show our pride and passion for the University. It is our visual identity. The color unites us to live and to celebrate together, and behold our individual achievements as a singular legacy of pride.
Red Friday Programs
I-Spy-Shasta
If you see Shasta take a picture and tag #HoustonRed on Twitter. See pictures from Red Fridays this semester on the UH Facebook.
Red Friday Street Team: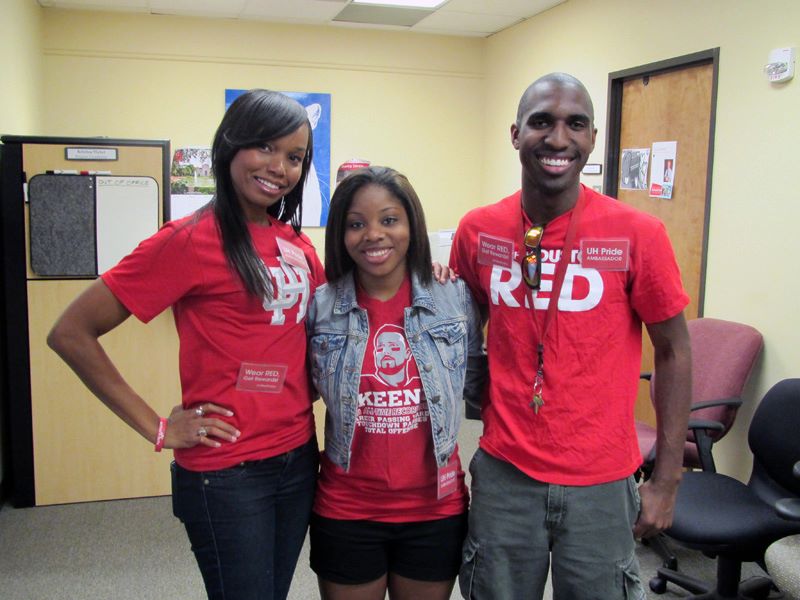 Five Dollar Fridays
UH Dining Services sponsors $5 Red Fridays for Faculty and Staff wearing Cougar Red shirts every Friday during the fall and spring semesters. The discount is valid during lunch at the Fresh Food Company only until the new dining hall on the corner of Wheeler and Cullen is completed. Faculty and staff must be wearing a red shirt and be able to show their UH ID in order to receive the discount. Visit www.uh.edu/dining or www.facebook.com/uhdining to learn more.