Keep Houston Red: Get Red Program
As part of Keep Houston Red, University Marketing hosted Get Red events on campus during the fall semester. Check out some pictures from this fall on the UH Facebook page.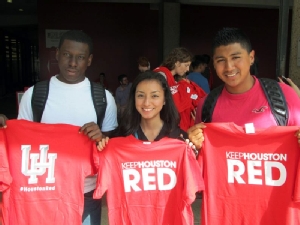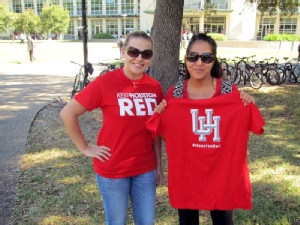 Get Red events are based around social media, so be sure you like UH on Facebook or follow UH on Twitter before participating in our next event!
Check the KHR Google Calendar for future Get Red event dates.
Get Red Events:
Get Red Booth
Get Red Booths will be stationed in Butler Plaza and Keep Houston Red representatives will be handing out prizes to those who can show they like UH on Facebook or follow UH on Twitter. How easy is that to win a prize? If you don't already like UH or follow UH, do it now to limit the time you have to wait for a prize.
Red Trivia
It's your opportunity to show how much you know about UH. Trivia questions will be released via the UH Twitter, @UHouston, and the first person to tweet a picture in red with the correct answer to #HoustonRed will win a special prize. The next four people to answer will be win a UH t-shirt. The winners will be announced via Twitter after the first five people respond, so keep checking. If you win Red Trivia, you can pick up your prize in E Cullen Room 125.
Red Dare
Red Dare is about trying something new. It's about meeting fellow Coogs and fellow Houstonians. It's about showing support for those who have supported us. But most of all… it's about you, having a good time. Red Dare information will be posted to our social media sites on a regular basis. The dares might be sweet, or silly, or brave and might include anything from writing a haiku to committing a random act of kindness. Do you have any ideas for a great dare? Submit suggestions to khr@uh.edu. Red Dare participants will be entered in to a drawing to win a special prize.
Below is a Halloween Red Dare pumpkin submission from this semester. Click here to see more Halloween Red Dare pictures!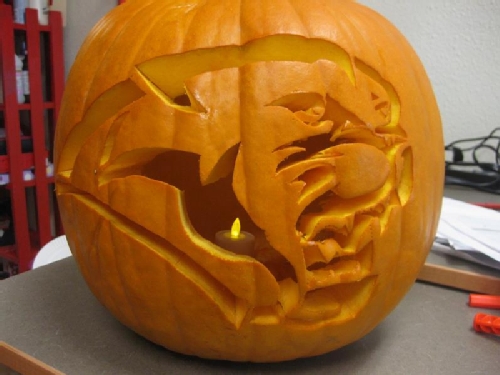 Red Rewards
On random days during the fall and spring semesters, we will be handing out Red Rewards to those who show their pride and wear Cougar red. It could be on a Monday or it could be on a Friday, so be prepared and on the lookout for the Red Rewards Street Team. Take a picture of your Red Reward and tweet it to #HoustonRed to show your pride.